Eddie Lacy: The Missing Piece
"You know, I was surprised, 'cos you don't expect to be able to run the ball as easily as I did on such a big stage. But the coaching staff had a great gameplan and we came out with an offensive mindset, the offensive line were really physical and opened up big holes for me to run through." A surprisingly modest assessment from the runaway MVP of the 2013 BCS National Championship game.
The National Football League has recently become known for extreme offensive fire power, the top of the NCAA ranks is all about good defense and a power running game. Nick Saban's Alabama Crimson Tide have won three of the last four BCS National Titles with a rock solid defense, exceptional coaching and running backs who rack up more yardage than Bo Jackson did against the Bengals. It will therefore come as no surprise that the Packers looked down south to find an answer to their major ground game issues, picking the latest big offensive talent from "running back U" – Eddie Lacy.
The six-foot, 231 pound crowd pleaser from Dutchtown High School in Louisiana may have been selected by the Packers in the second round of the 2013 draft, with the 61st pick – but the game has changed now, running backs are not such a hot commodity. Ingram and Richardson before him were first round picks, and rightly so – but Lacy has the advantage, the upper hand, the best potential future. The All-SEC power back is coming to Green Bay, to play for a team with high hopes of another Superbowl title and in desperate need of a running game.
The Packers some amazing offensive pieces, like Jordy Nelson at wideout and of course the uber-talented Aaron Rodgers behind center. But it's no secret that they have become not just in need of a "true" every-down back, but dying for one. The Green and Gold's leading rusher during the 2012/2013 season for instance was the young Alex Green, who only had 464 yards during the regular season and an empty touchdown column.
"He's got much better feet than people think. This guy's a three-down tailback. He'll protect the quarterback. He can carry 20 to 25 times a game. For the Packers, who have been running the ball by committee, this is a perfect pick." Proclaimed NFL Network Analyst Mike Mayock. The Packers didn't just pick Lacy – they stole him, especially just a few months after he scored a receiving and rushing touchdown in the biggest game of his career, racking up 140 yards on the ground in the process against a hapless Notre Dame team.
Living up to such great talent before him was never going to be an easy task, but it worked in Lacy's favour, and he proved his worth behind two of the greatest Crimson Tide running backs of all time (Mark Ingram and Trent Richardson), coming out of college with three rings and a plethora of experience.
Anyone who watches football religiously knows that injuries make or break a season, so sharing his reps with the experienced Richardson during 2011 and then with rookie TJ Yeldon in 2012 meant getting truly banged up in college like South Carolina's Marcus Lattimore didn't happen. Though the foot injury he sustained in 2011 against Arkansas was a concern to many teams going into the draft, the toe-fusion procedure he underwent as a result of the hiccup seems to have so far worked perfectly, leaving him with no movement issues in his big toe. "I think it could have been one of the reasons he wasn't drafted earlier by other teams, but we felt pretty good about it. Between the lines he's a go-getter." Ted Thompson pointed out after the draft.
During 2011 – even with the injury – Lacy managed 631 yards and seven touchdowns alongside Trent Richardson. Back then he was just another Bama player, on a long list of potential NFL stars on the 2011 roster – but he did have one thing which separated him from the rest, his signature move; the spin.
"They call me 'Circle Button,' from like the video games and stuff," Lacy jokes, but this weapon is no laughing matter. Nobody had an answer for his flick of the hips, over and over again he fooled opposing players right up until the his last game in Crimson, in which he dizzied himself spinning into the endzone like a cliche cartoon tornado cloud, putting the game out of reach for the already demotivated Irish.
Prior to his big game in the packed Sun Life Stadium back in January, Lacy had proved himself as the featured back for the Tide during his final season, even though he was still sharing his role. He was no one-trick pony either, showing the ability to run through defenders, dive over the trenches, burst through the o-line, block for his QB AJ McCarron and even catch the odd pass. It was clear that he had learned from his predecessors, much like Rodgers did while sitting under Favre's wing.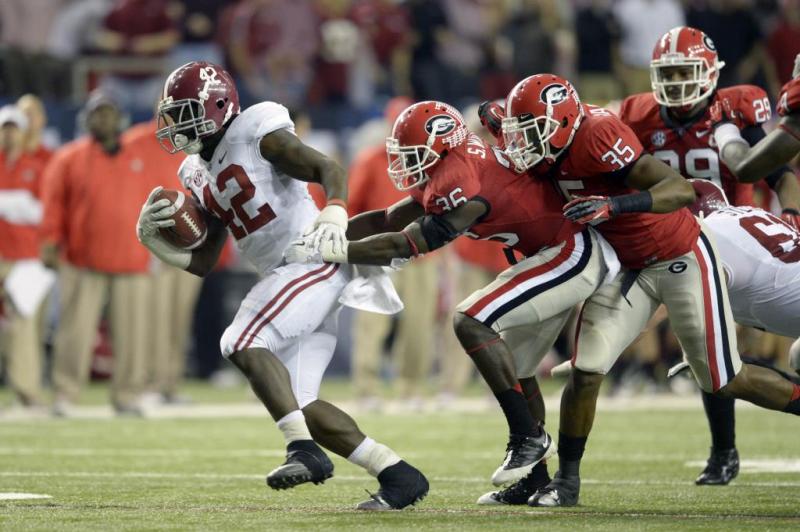 Lacy played extremely well throughout his senior season, but he really shone against ranked opponents, including a #3 Georgia team in the SEC Championship game and a #5 LSU Tigers squad seeking revenge after an embarrassing loss in the National Title game earlier in the year. Bama played six top 25 programmes, and aside from the off-game he had against #13 Mississippi State, he had at least one touchdown on the ground, averaged almost seven yards per carry, racking up 532 yards total and on an average just shy of 15 rushing attempts in the each game.
In a Green Bay uniform he looks to be sharing his job again, with fellow 2013 draftee Jonathan Franklin from UCLA and second year player Dujuan Harris. He will need to get used to the up tempo style of the NFL, but it shouldn't be too long before he becomes a three-down back getting close to 30 carries a game.
At some point during his rookie season, he will go one on one with a Pro Bowl caliber linebacker, and spin past him, and after charging a further thirty yards, he will run over a corner and dive into the endzone. Many fans will act shocked, but they shouldn't be, since he's done it all before.The Packers will finally have a respectable running game again, giving them a real shot at another title, at that point the fans watching on TV and in the stands will smile and realize that "circle button", was the missing piece.