CHICKS DIG SCARS: Football….It's ON like Ndamukong!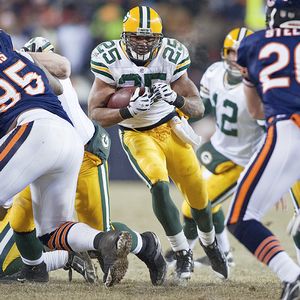 Yeah, I know he's on the Lions. I just like to say his name.
With the lockout this season, I've found myself without much to say (I know you're shocked).  Writer's block? Maybe. I started a couple of posts and then abandoned them. My heart wasn't in it. I thought about writing about Molly, my 12 year old Labrador who passed away in May, but I couldn't get through it. Still can't. I blame her for my writer's block. Bad doggy (I still miss you, though).
I did keep the football sarcasm up on Twitter, though. It's easy to get it out in 140 characters and move on.
And for his girlfriends, the covers of Seventeen and Tiger Beat. RT @AdamSchefter Mark Sanchez is on the cover of the September issue of GQ.
See what I mean?
—-
This is what I call The Silly Season. It's a racing term. This is when everyone is talking Super Bowl ( some more than others, right Vince Young? ) and whether this guy or that guy is disposable. Sometimes, you see it coming. Guys age. You wonder how much is left. But other times, it's a head scratcher. Maybe I'm not around Green Bay enough to understand the logic, and not dissecting enough practice footage, but why are we even questioning Ryan Grant being on the team? I don't care if you think James Starks is the second coming. He's only been around one season and it wasn't even a FULL season. I'm not ready to hand the reigns of a Super Bowl Champion to an unproven ( yes, I said UNPROVEN )  back, no matter how much potential he supposedly has. Potential can kiss my ass. Everyone has it. SHOW ME, for SEVERAL GAMES IN A ROW. And who else are we talking as a replacement? A ROOKIE? A rookie who, due to the lockout, didn't go through full off season workouts? Slap my head. Slap YOUR head. I'll bet y'all are the kind of people that would hand the keys to a Corvette to a seventeen year old, aren't you?
—-
Randall Cobb celebrated his birthday this week. His 21st birthday. Yes, he can now buy beer for his teammates. Look out, Rookie, you're definitely getting the check at Chives this week. Did I mention that he's 21? As in, "born in the Nineties?" August 22, 1990 to be exact. I'd like to thank Mr. Cobb for making a bunch of us bloggers realize that we're now old enough to be the parent of a Packer.  Definitely pass him the check, boys.
—-
And why am I seeing my team's playbook scattered on the side of the road in Wisconsin? Is Waste Management run by Bear fans, or something? Does the Packer front office own a shredder? I think we all know that all sensitive documents should be shredded, and I'd call the playbook of one of the most valuable professional sports franchises in the country, pretty freaking sensitive.
—-
I love B.J. Raji . Who doesn't? Especially after that TD in last's NFC Championship, which for me was payback for Ditka sending Refrigerator Perry into the endzone against us. Yes, it was 25 years ago, but the stench still lingered. Anyway, I read about the slight shot he took at Daryn Colledge following last week's preseason game vs. Phoenix, the team who signed Colledge to a nice free agent contract. It wasn't a nasty comment, but he did call him "weak."  This was your teammate, BJ. The one teammate who protected Aaron Rodgers without missing a game the entire Super Bowl championship season. Regardless if you think he was good, bad, or mediocre, that dependability was hard to find during the 2010 season. He deserves a bit of respect. It was nice to see that Daryn didn't take the bait and return fire. A truly good guy. I'll miss him.
—-
Thank you football gods and all that's holy. The Derek Sherrod Experiment is over and TJ Lang is the new starter at left guard. No offense to young Mr. Sherrod. He'll get his chances, but trusting the health and well being of the Franchise QB to a rookie who, as mentioned above, had no offseason workouts in the system? Scary. We were spoiled by Bryan Bulaga . Not many o-linemen can step right into a starting position their rookie season. Bulaga also had the benefit of OTA's, minicamps and access to the playbook for a full spring/summer, too. I feel a bit better about Aaron Rodgers health, now.
—-
Brett Favre
is like candy to a child when it comes to the media. Just the mention of his name sends shivers of pleasure to the happy places of all the talking heads at ESPN.  This week, the big rumor was that Jim Irsay was in Hattiesburg, looking for a veteran QB to back up Manning in case his neck surgery wasn't fully healed by the first week of the season. Oh, how I would have loved to watch that play out.
Peyton Manning is #2 on the Ironman consecutive starts list with 208
. This is the record that means more to Brett Favre (297 starts) than any other.  Manning and Brady will surely break most of #4′s completion, yardage and touchdown records eventually, but all it takes is ONE missed start by Manning and the Ol' Dongslinger's Ironman record is safe for years to come. Especially in the current day of heightened awareness when it comes to head injuries, that record would be safe, perhaps forever.  Favre played many Sundays with his eyes rolling around in the back of his head. There's no telling how many concussions he had in 19 years. Nowadays, he'd have to sit, as Rodgers did last year against the Patriots. Yes, Peyton would have to play for 5.56 more seasons to catch Favre, but who says he won't? If he sticks around until he's 40, it can happen. So, having Brett Favre play on the same team, standing behind Peyton Manning on the sidelines, eating at the same training table, having access to his locker, sticking pins in a Peyton voo-doo doll….it would have been so much fun to watch.
"All it takes is one missed start, and my record won't be touched…."