DREAMY DUDES OF DOPPLER: ICE WARS
I like hockey. No, I love hockey. Almost as much as football, actually. Spring is playoff season. Do you want to know how much of the NBA playoffs I'll be watching? Approximately 30 seconds worth…..MAYBE. Once March Madness is over, so is basketball as far as I'm concerned.  The NBA sucks ass. Sorry, it's true. I always wish the Milwaukee Bucks well, but the rest? Whatever. I can't even tell you who's in first place right now (I just know it's not the Bucks) .
Now…hockey? Hot men with scars. Fighting. Testosterone. Have mercy!
Please note that Sidney Crosby does not appear here. As a Detroit Red Wings AND Green Bay Packers fan, Pittsburgh can kiss my ass.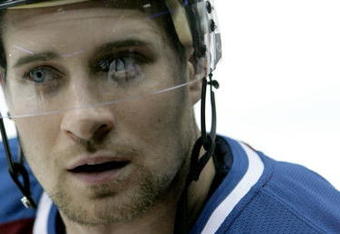 1. John-Michael Liles, Colorado Avalanche. I may be a Red Wings fan, but this dude is FINE. And he was born and raised in that hockey hot bed of…..Indiana.
Seriously. Indianapolis, Indiana. How did he escape with a hockey stick instead of a basketball?
God Bless America.
2. Henrik Lundqvist, New York Rangers, Team Sweden. Do you believe this face gets hidden under a GOALIE mask?
Believe me. For every Swedish bikini team out there for men to stare at, there's an equally hot Swedish hockey team for the ladies to drool over. There has to be something in the water, there.
3. Patrick Sharp. Chicago Blackhawks, Team Canada. It's a hockey list. You have to include a Canadian. It's the rules. Besides, he's nice, huh?  For a Hawk (says the Wings fan) . Plus, you know he's fine if his team roster mug shot is this good. No one takes a good photo in their team headshot. It's like a drivers license.