Chicks Dig Scars: Football Withdrawls and Championship Hangovers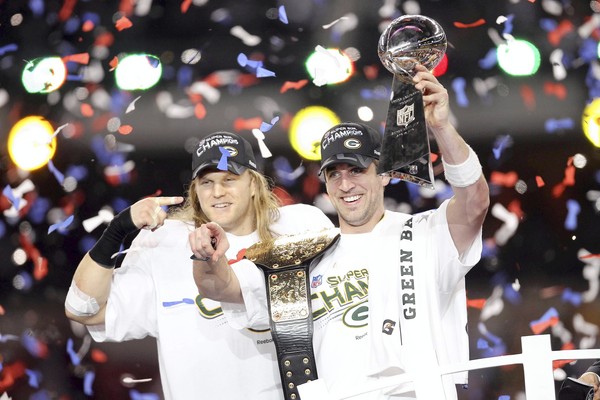 Football season is over. If it weren't for the NHL playoffs and March Madness looming, I'd be breaking out in a cold sweat right now.
So, I took the week after the Super Bowl off from blogging. I was in a football coma. A joyous one, to be sure. Articles everywhere! Pictures and video of Packers holding belts and trophies! Late night talk show appearances! It just seemed that there was so much information out there, I figured, why add to it? Embrace it. So I did. And I ordered Super Bowl swag. As I said on my Facebook and Twitter, championships are expensive. Good thing I don't root for a baseball team that wins any. Frustrated sigh.
I do want to thank those of you who commented and reached out to me privately through "the Tweeter" and Zuckerberg's Evil Toy regarding my last blog entry ( "Chicks Dig Scars: Can We Talk?" 2/3/2011 ).  I debated making the experience available for public consumption, but the perspective from someone on the opposite side of the argument in a time when everyone seemed to be excusing Big Ben's behavior and declaring him a "changed man," was really starting to irritate me.  Years later, I still can't hear "Roadhouse Blues" by the Doors without remembering the experience in the bar bathroom. I also drive by the place in question on a daily basis. So thank you for the support and kind words.
In watching Aaron Rodgers' appearance on David Letterman on 2/7/11, Dave makes a comment that there is some justice in Rodgers winning the Super Bowl (and the MVP) after what he had to endure in the Summer of 2008 (and beyond). Aaron just smiled. He never takes the bait or bashes Favre, but some things don't need to be said. Yes, Dave, there is justice in this. I also believe there is justice in guys like Roethlisberger and Vick losing on a grand stage, and I, for one, am happy that my team is the one who sent them both home for the season.
There was a subject that came out in the weeks following the Super Bowl hoopla that got my attention. I debated speaking of it myself, but my fellow blogging buddy, Colleen, did it the other day, and there's really nothing more I can add to it. If you haven't already, please read " A Violent Femme's View: Forgiveness," 2/15/11 ). The topic of Brett and Aaron and whether Favre owes a least a congratulatory phone call to the Packers' QB, was brought into play in an excellent article by Mike Freeman of CBS (cool dude to follow on Twitter, by the way, @realfreemanCBS) and later debated on ESPN's Pardon the Interruption.
The weeks following the Super Bowl for the winning team is a blur of appearances and adulation. If you wonder why it is so hard for a team to repeat as champions, this is a reason why. Teams that didn't make the playoffs have been resting for 5-6 weeks. Winning a Super Bowl also means that the demands for your time go way up. Exactly how much sleep did Aaron Rodgers get in the days after February 6? I remember what happened after the Packers won the '97 Super Bowl. They were favored the following  season to repeat, favored in the Super Bowl, and ended up losing to the Broncos. In '98. I heard the rumors about the team not being as focused after winning the year before, and not taking the game seriously. Kind of a "we got this" attitude. The current Packers team has exactly ONE guy with a Super Bowl ring, John Kuhn, and he never saw the field that day. He was on the Steelers' practice squad.  How will this team regain focus and not fall in to an overconfidence trap once their Super Bowl rings are delivered? Will they be sufficiently rested? My hope is that there are enough guys who were stuck on IR, who watched that game from the sidelines dressed in shorts, who will be hungry. Sure, they get their rings for this year, but you know they would probably rather wear one that they feel they contributed towards on Super Bowl Sunday.
Then, there is the matter of bodies. TOO MANY bodies. All those guys on IR want to come back, and I'm sure their replacements want to stay.  Some decisions will have to be made and some guys on the current team won't be back. It's hard to be critical of Ted Thompson after he did such a stellar job of plugging other team's castoffs into places that the Packers needed them, but he may be making an unpopular decision or two in the coming months.  Again. The advantage is that there will probably never be a decision as stressful as the one made in the Summer of '08.
Notice that I'm conveniently ignoring any potential work stoppage. I'm channeling Scarlett O'Hara on that one. I'll worry about that tomorrow.
I'll have to find things to discuss in the off season that you will all be interested in. This may be tough. I root for a Marquette conference rival in college basketball, and (whispers) I'm a Cubs fan. I do have an affinity for the Brewers, as well. Yes, I know they're in the same division. I plan on addressing THAT next week. Damn you, Bud Selig.